Лабораторія фізики МТСС: монографії
---
Mishchenko M.I., Rosenbush V.K., Kiselev N.N., Lupishko D.F., Tishkovets V.P., Kaydash V.G., Belskaya I.N., Efimov Y.S., Shakhovskoy N.M. Polarimetric remote sensing of Solar System objects
Akademperiodyka, Kyiv, 291 p. Basic Sciences Book Award of the International Academy of Astronautics (2010).
doi: 10.15407/akademperiodyka.134.291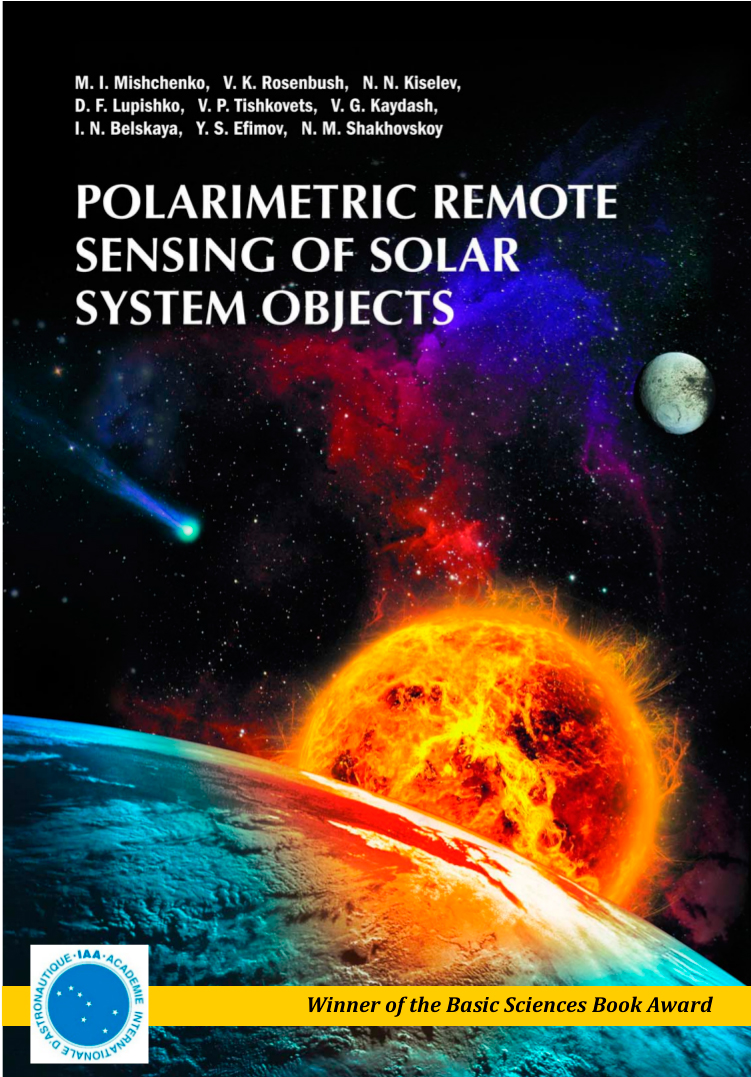 This book outlines the basic physical principles and practical methods of polarimetric remote sensing of Solar System objects and summarizes numerous advanced applications of polarimetry in geophysics and planetary astrophysics. In the first chapter we present a complete and rigorous theory of electromagnetic scattering by disperse media directly based on the Maxwell equations and describe advanced physically based modeling tools. This is followed, in Chapter 2, by a theoretical analysis of polarimetry as a remote-sensing tool and an outline of basic principles of polarimetric measurements and their practical implementations. In Chapters 3 and 4, we describe the results of extensive ground-based, aircraft, and spacecraft observations of numerous Solar System objects (the Earth and other planets, planetary satellites, Saturn's rings, asteroids, trans-Neptunian objects, and comets). Theoretical analyses of these data are used to retrieve optical and physical characteristics of planetary surfaces and atmospheres as well as to identify a number of new phenomena and effects.
This monograph is intended for science professionals, educators, and graduate students specializing in remote sensing, astrophysics, atmospheric physics, optics of disperse and disordered media, and optical particle characterization
---
Шульман Л.М. Ядра комет
Наука, Москва,1987, 230 стр.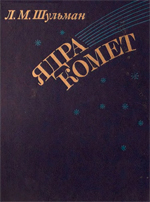 Описана современная физическая модель ядра кометы, ее становление, основы теоретического аппарата, с помощью которого характеристики комет-ных ядер выводятся из анализа фотометрических, спектральных и др. наблюдений комет. Рассматривается монолитность ядер, их химический состав, тепловой режим, особенности сублимации кометных льдов, образование и поведение поверхностного пылевого слоя. Сообщаются сведения о смежных разделах физики, химии, криогеники и др., с которыми приходится работать исследователю ядер комет.
Специальный раздел посвящен исследованию кометы Галлея с помощью космических аппаратов.
Для астрономов и физиков - специалистов, аспирантов, студентов.
---
Коноплева В.П., Назарчук Г.К., Шульман Л.М. Поверхностная фотометрия комет
Наукова думка, Київ, 1977, 266 стор.
---
Шульман Л.М. Динамика кометных атмосфер.Нейтральный газ.
Наукова думка, Київ, 1972, 243 стор.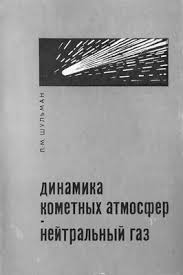 В монографии излагается теория движения нейтрального газа в атмосферах комет. Цель монографии - дать необходимый аппарат для расчета физических условий в различных слоях нейтрально-газовой атмосферы. Рассматривается идентификация родительских молекул по наблюдаемым радикалам; переход нейтралов в атмосферу, движение газов в области, где существенны столкновения, разогрев газа в этой области за счет фотодиссоциации и наличия пыли, поведение пылинок (выброшенных из ядра и вновь образовавшихся в атмосфере путем конденсации или фотополимеризации) в запыленной атмосфере; анизотропизация температур в области перехода к свободномолекулярному режиму: кинетика газа в бесстолкновительной области. Случай, когда во всей кометной атмосфере осуществляется свободномолекулярный режим течения, изучен с учетом вращения ядра и кинетики фотодиссоциации.
Для наиболее часто встречающихся на практике случаев получены соотношения, позволяющие рассчитать распределение поверхностной яркости в изображениях комет; изложена методика выполнения подобных расчетов для произвольного случая.
Рассчитана на научных работников астрономических учреждений и вузов, студентов и аспирантов, специализирующихся в области астрофизики.
РОЗДІЛИ В МОНОГРАФІЯХ
---
Mishchenko M.I., Yatskiv Ya.S., Rosenbush V.K., Videen G. Eds. 2011. Polarimetric detection, сharacterization and remote sensing
Springer, Dordrecht, The Netherlands, 550 р.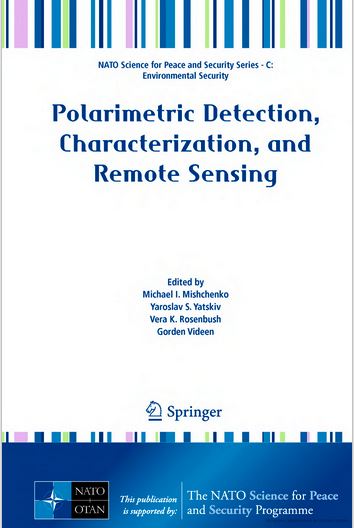 The NATO Advanced Study Institute (ASI)on "Special Detection Technique (Polarimetrv) and Remote Sensing" took place in Kyiv, Ukraine, 12-25 September 2010. The main focus of the meeting was photopolarimetry, a rapidly developing, multidisciplinary topic with numerous military, ecological remote-sensing, astrophysical, biomedical, and technological applications fl-9|. Typical remote-sensing instruments measure the total intensity of the light scattered by a system of interest. Although the results of such measurements can be extremely valuable, they carry only a fraction of potentially useful information contained in the scattered light. The remaining information is coded in the polarization state of the light. As the need for accurate optical characterization and diagnostic techniques is increasing, it is important to find improved ways of extracting the additional information contained within the polarization slate of the measured light...
---
Kolokolova, L., J. Hough, and A.-C. Levasseur-Regourd, Eds., 2015: Polarimetry of Stars and Planetary Systems.
Cambridge University Press, Cambridge. 560 pp.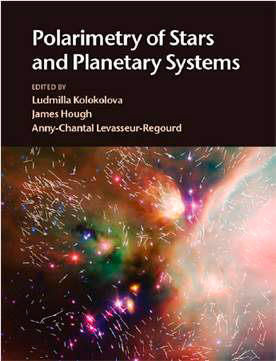 Summarising the striking advances of the last two decades, this reliable introduction to modern astronomical polarimetry provides a comprehensive review of state-of-the-art techniques, models and research methods. Focusing on optical and near-infrared wavelengths, each detailed, up-to-date chapter addresses a different facet of recent innovations, including new instrumentation, techniques and theories; new methods based on laboratory studies, enabling the modeling of polarimetric characteristics for a wide variety of astronomical objects; emerging fields of polarimetric exploration, including proto-planetary and debris discs, icy satellites, transneptunian objects, exoplanets, and the search for extraterrestrial life; and unique results produced by space telescopes, and polarimeters aboard exploratory spacecraft. With contributions from an international team of accomplished researchers, this is an ideal resource for astronomers and researchers working in astrophysics, earth sciences, and remote sensing keen to learn more about this valuable diagnostic tool. The book is dedicated to the memory of renowned polarimetrist Tom Gehrels.
---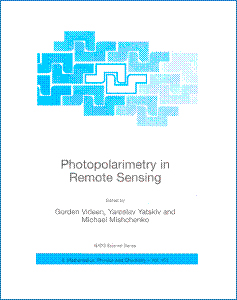 Videen,G., Ya. Yatskiv, and M. Mishchenko, Eds., 2004: Photopolarimetry in Remote Sensing
Kluwer Academic Publishers, Dordrecht, The Netherlands. 503 pp.
---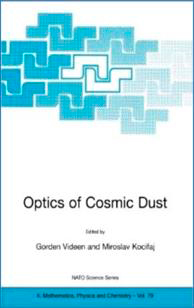 Videen,G. and M. Kocifaj, Eds., 2002: Optics of Cosmic Dust
Kluwer Academic Publishers, Dordrecht, The Netherlands. 320 pp.
Optics of Cosmic Dust describes what we currently know about cosmic dust, how we know it, and the research efforts undertaken to provide that knowledge. Areas treated include observational information, dust morphology and chemistry, light-scattering models, characterisation methodologies, and backscatter polarisation and dynamics. Suitable as an introductory text, the book is also a reference guide for the advanced researcher.